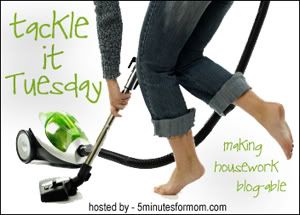 I know pictures can't really do justice to the improvement in this kitchen. This 50 plus year old house has ickiness everywhere. As hard as I try to clean everything, walls and floors included, it doesn't doesn't always come clean. The walls were so gross that I just had to do something drastic. So, here is the final result of my obsession all last week. I still need to get new valances, which will warm the room up a little more, but at least now it's a fresh, clean feel.
The beam running across the ceiling was a strange sort of plastic/wo
od board that I had no idea what to do w
ith. A kitchen designer friend of mine sugges
ted just painting it.
I think the painting of the beam made a HUGE difference.
The drop ceiling needs desperately to be replaced but we have neither the funds, nor the know how to do it so we have to be satisfied with the other stuff for now.
This picture was where the most notice
able nastiness was. There were cracks in the walls under and above the
se
windows, as well as several BAD patchin
g jobs in between the window. Once again, with valances, this angle will nice.
The room looks much cozier with this view when you first walk in.
I was fully intending to re-stain the cupboards and put new hardware in, but alas, the funds issue arose again so that will have to wait.
Above the cupboards was also that strange wood/board material.
The area above the cupboards is another one of the huge improvements, having that painted.
Somehow, I missed a "befo
re" picture of this angle, but it was again one of the nastiest of walls. It is
so much better sitting at the desk typing looking at a clean, neat wall. I like the replacement desk also.
So I know this was overdoing the Tackle it Tuesday a little, but it was a huge tackle and one that made such a difference, that I keep walking into the kitchen, just to look at it. It really does make the hallway and entry ways even worse though, so I imagine I probably will be posting about those soon. Maybe by Christmas, I can have the living room done too...if my family can put up with the messes that painting creates long enough.
Happy Tuesday.